Innovation talk by Sergey Lunev, PhD in Structural Biology, one of the founders of EV Biotech and current Chief Innovation Officer.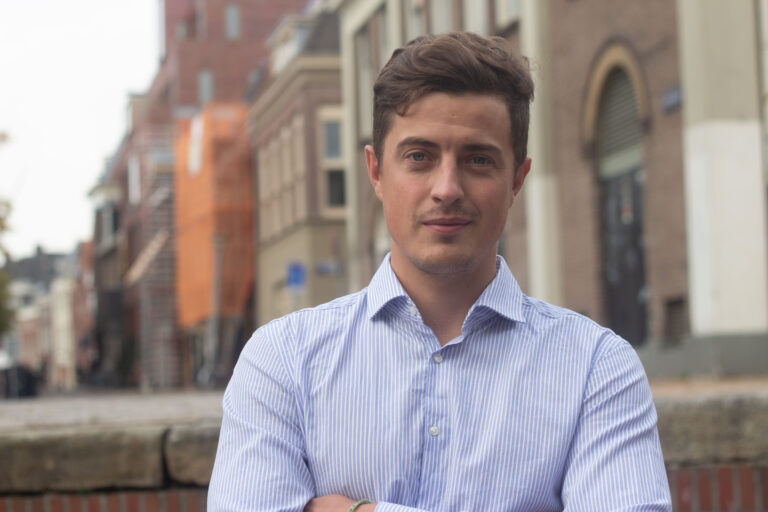 Innovation is the result of a successful implementation of an idea. It can either create new markets or completely transform existing ones. Innovations can be born out of a vision, frustration, or both. Classical strain development is a very time and resource-intensive process. This is a disadvantage from both a financial and a sustainable point of view.  
At EV Biotech, we have revolutionised the process of microbial strain engineering by combining classical fermentation methods with predictive computational algorithms. Fast-paced developments of our computational modelling tools ensure that strain-engineering will only become easier, more effective,  more versatile, and more time-efficient.
EV Biotech aims to become a frontrunner in strain development, generating new tools and knowledge on strain development and evolving the chemical feedstock market using greener chemical production methods. To understand the importance of innovation at EV Biotech, we talked to Sergey Lunev, an innovator by heart.
Why is innovation important to EV Biotech? 
I would define innovation as a combination of science and imagination. At EV, we are young, energetic, enthusiastic and hungry. I really believe that by using our imagination we can revolutionise the field of microbial strain engineering. Working at EV Biotech gives us energy, and this energy attracts similar minded people who share our enthusiasm and can help us to further innovate on our ideas.
"Here at EV Biotech, we do what we love the most by using our knowledge and imagination to create something new while helping the world to become greener."
Utilising microorganisms for the production of speciality chemicals is not new. It has been around for a while, forever, if you think of beer or wine. What is it that makes EV Biotech innovative compared to conventional strain engineering? 
Instead of wasting our time on trial and error, we try to predict what is not going to work using computer models. Therefore, we have fewer things to try. With each iteration, we learn more about the microorganism and its behaviour. So eventually, instead of running thousands of experiments, we get the highest chances of success, using fewer resources. Consequently, we deal with fewer variants, and a lot faster. The procedure is standardised and we just choose the best option.
Moreover, a factor of utmost importance is the people of our organisation. We are open-minded, motivated, smart and most importantly, we want to change the world. EV Biotech believes that for a healthy and sustainable future, the old modus operandi needs to change in order to sustain the lives and the quality of life of the population. All these characteristics combined with the technology and our location will definitely help us grow and stay innovative.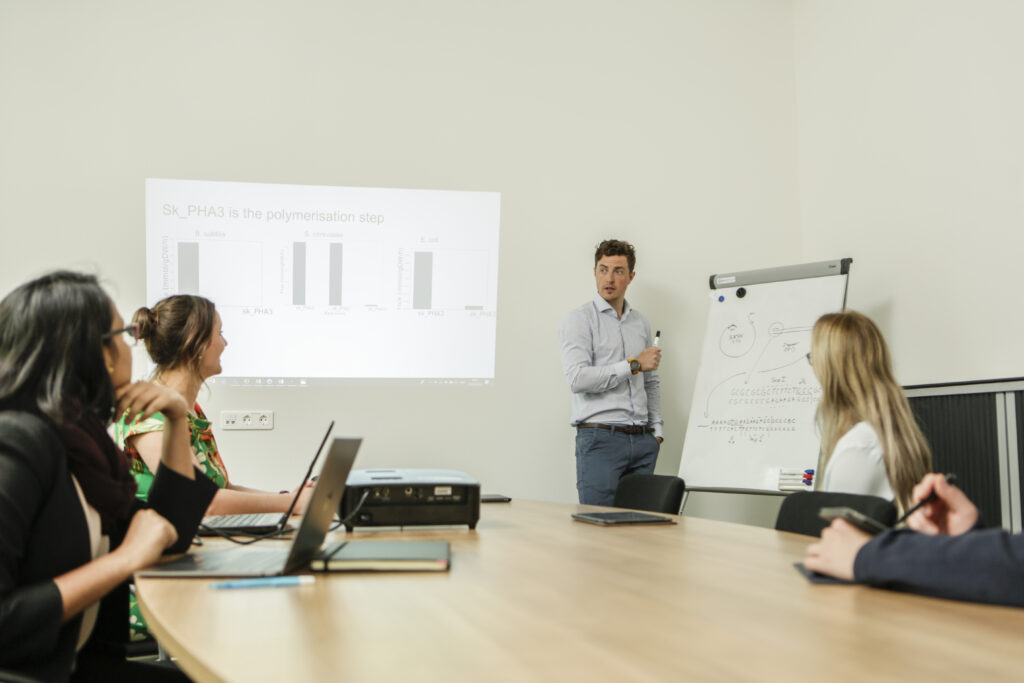 EV Biotech is currently working on several innovative projects, among others the EV proprietary strains. We are interested to know, why did the company choose these projects?
Since January 2019, we have been working on our own four proprietary strains that can produce terpenes, vanilla, bioplastics and spider silk. We did market research and we saw that these four strains, in combination with our computational modelling, can be an innovative and successful combination.
Within our strains, vanilla was the first clear option to us. Who does not like vanilla, right? It is simple, well known and most importantly, the demand for naturally produced vanilla is increasing compared to synthetically produced vanilla.
The proprietary strain that is the farthest in the development phase, produces terpenes. These compounds are the largest and most diverse class of natural products. Due to their appealing scent and flavour, a lot of industries use them for fragrances or food applications. Moreover, terpenes have therapeutic properties which can be interesting for the cosmetic and pharmaceutical industries. I cannot say too much about it yet, but we will be going to pilot with this stain this year.
The development of environmentally friendly bioplastics is another of our projects. Right now there is a high demand for these plastics for medical devices and packaging materials. The high demand for plastics that are produced from non-petrochemical products makes them the perfect target to innovate on.
Our last project is the production of spider silk proteins. This silk is a really strong, hypoallergenic material, making it interesting for application in multiple industries. However, current methods of producing and collecting spider silk are challenging. EV Biotech thinks that producing the silk proteins using microorganisms could pose a solution to these challenges and therefore, could be a great opportunity for success in the market.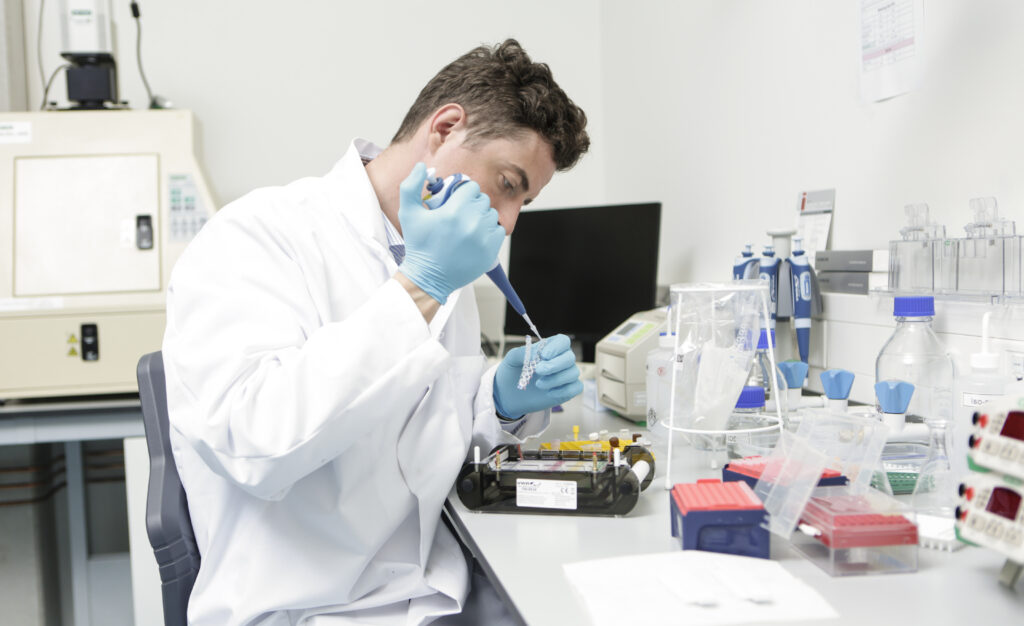 EV Biotech is a start-up, and a key difference between a big corporation and a start-up company is the organisational structure. Do you think that the organisational structure of a company plays a vital role in innovation?
Of course, it does. The organisational structure of a company can skyrocket innovation performance by enabling coordination among different functional units. If people inside the company are supported by the management, then they will be able to work more efficiently in order to achieve their goals. In other words, if I can rely on others to organise matters around me, then I have more freedom to scout for innovation, operate and do my research. 
"The organisational structure is like the skeleton that holds the body, which is the startup, and innovation is the muscle that keeps it going."
EV Biotech is currently growing fast as a company and always looking forward to setting new goals. Looking at the future, where do you think EV will be in the upcoming years?
We will be growing a lot as a company, putting us in a better position than we are now. Our plan is to develop new proprietary strains that meet current market demands. Furthermore, to enhance our prediction methods we will build new computational tools and introduce robotics together with semi high throughput methods.  Achieving these goals will make our operations team even more capable of developing a wide range of microorganisms that produce sustainable ingredients for our clients.
And how do you identify these new opportunities for innovation? 
In order to identify opportunities for innovation you always need to be up-to-date, open-minded and appreciate the complexity of nature. I would say that it is like the survival of the fittest: in order to be the fittest, you have to innovate. If there is a process that is not working anymore, you must acknowledge it, evaluate it, and improve it. I can still produce microbial cell factories like they did 50 years ago, but it will not be as effective as the new methods are. 
You have to make predictions and act upon them before everybody else does.  In addition, constant adaptation and continuous learning are prerequisites to be/or remain at the frontier. That is what we are doing at EV Biotech. I think that's our spirit and how we operate. Even if sometimes you get performance limitations, like political, financial, economical, anything, you should not stop innovating. You need to think outside of the box!
"Our goal is always to get better. We just need to keep going, and of course, constantly look for new opportunities for innovation!"