This year marks the 27th edition of the entrepreneur's prize
AMSTERDAM, 20th of June 2023 –The nominees for the title 'EY Entrepreneur Of The Year 2023' have been announced. Ali Niknam (bunq), Eric van Schagen (Simac Techniek), Sezer Duygulu (Home of People) and Frank van de Ven (i-team Global), compete for the highest honour this year. In addition, 10 up-and-coming top entrepreneurs are competing for the title of 'EY Emerging Entrepreneur Of The Year 2023'. This award goes to a successful, fast-growing and innovative entrepreneur with a company that has been in existence for less than ten years. In collaboration with Van Lanschot Kempen, the 27th edition of this prestigious prize was preceded by a reliable screening and selection procedure.
Marita de Hair, EY Nederland Partner Assurance and EY Entrepreneur Of The Year Leader:  
"I am proud of the great list of candidates who are participating in this year's competition. Inspiring entrepreneurs from various sectors with a curious desire for how things can be done differently and better."
Entrepreneurs in the Spotlight
The EY Entrepreneur Of The Year program is organised by consultancy and accountancy organisation EY in more than sixty countries worldwide. In the Netherlands, the program is experiencing its 27th edition this year. Program leaders Marita de Hair and Erik de Heer selected a group of unique entrepreneurs who also make a difference in social areas and sustainability. This year too, all entrepreneurs are market leaders in their sector and distinguish themselves through innovation, vision, guts, financial stability and resilience. The program is intended to put entrepreneurship in the spotlight, to encourage and support entrepreneurs to get the best out of themselves, their clients and their employees.
Active participation program
The entrepreneurs are actively involved in the program and are prepared through various workshops such as pitch training. The independent jury consists of top entrepreneurs and former candidates who ask the right questions from practice to bring out the best in them. The 14 nominated entrepreneurs in total will present themselves to the independent jury on 6 September. This jury selects the finalists. The winners will be announced during the final on October 4th. For the composition of the jury, see: jury 2023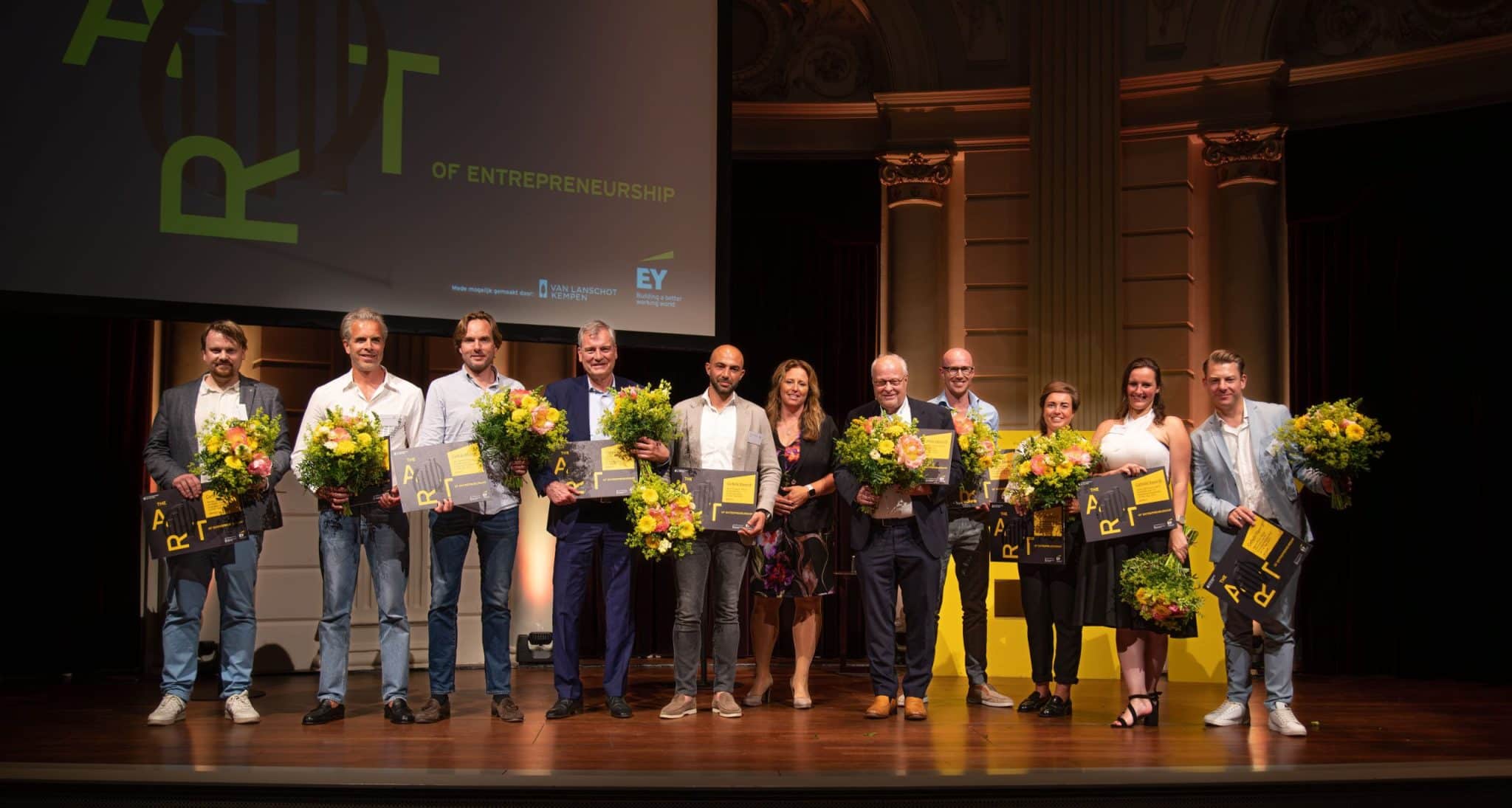 Nominees EY Entrepreneur Of The Year 2023
Bunq

 

Ali Niknam

 

Simac Techniek

 

Eric van Schagen

 

Home of People 
Sezer Duygulu
i-team Global
Frank van de Ven
Nominees EY Emerging Entrepreneur Of The Year 2023 
Matt Sleeps

 

Joep Verbunt

 

In Ovo

 

Wouter Bruins

 

Whoppah

 

Thomas Bunnik

 

HappySoaps

 

Marcel Koers

 

EV Biotech

 

Linda Dijkshoorn

 

PeelPioneers

 

Bas van Wieringen

 

OpenUp

 

Gijs Coppens

 

Rocycle

 

Rogier van Duyn

 

Equalture

 

Charlotte Melkert

 

Vedder & Vedder

 

Anne Vedder