The MIT European Career Fair (ECF) in Boston is one of the biggest international career events, specifically focused on working in Europe. It's a great way to meet and potentially recruit the best of the brightest, so Northern Dutch startups and scale-ups Elfsquad, EV Biotech and Vrroom were more than happy to drop by. We asked the first two all about their experiences.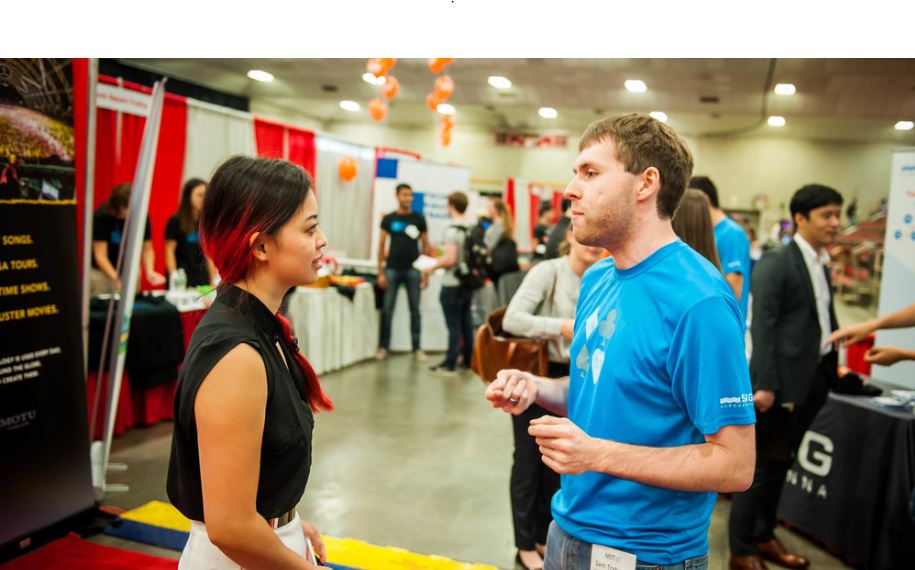 "This event gives us the opportunity to meet people from MIT or Harvard, which are of course two of the best universities in the world. These are very driven people, who aim high and constantly push themselves to go above and beyond any challenge, so they're exactly the people we're looking for. And at the European Career Fair they're also interested in moving to the other side of the world to realize their ambitions", says Wessel de Haan (commercial director of Elfsquad).
The Massachusetts Institute of Technology (MIT) is one of the most prestigious technical universities in the world. And every year, it hosts a career fair from Boston. The goal? To give ambitious students interested in working in Europe a taste of the research and learning institutions and companies from our continent. Students and alumni from the best universities in the world, who are also potentially eager to come to the Netherlands: it almost seems too good to be true. That's why it normally comes at a hefty price tag. But this year's online edition, and the good relationship between the Netherlands and Boston, made it possible for Founded in Friesland and Founded in Groningen to open the doors for three northern start-ups and scale-ups: Elfsquad, EV Biotech and Vrroom.  
EV Biotech
"First of all, it's important to mention that we are extremely grateful to have been given this opportunity. We were able to showcase our company in THE place we need to be. By that I mean the US in particular. Our network within the Netherlands is already expanding, but we are looking for a very specific profile; people with knowledge of bioinformatics, but also experimental work. This was the perfect opportunity for us to go over the border," says Anne Lexmond, Business Manager at EV Biotech.
Startup EV Biotech is working on making the chemical industry more sustainable, which is sorely needed, Anne says: "Of course we all need to go green, but we as the chemical industry certainly do. That's why we're developing green production processes for high-quality molecules for industrial parties. This consists of a whole process, but simply put, the unique thing about it is that we do the preliminary work with computers and use predictive models first, before going into the lab. This not only makes us much faster, but also more sustainable. Currently we're still in the 'proof of concept' stage, but the goal is to grow both nationally and internationally. So that's why we're already in talks with a number of interesting partners, but at the same time, we're also looking for the best people to join us." 
Participating in the European Career Fair was the perfect move: "Definitely, without a doubt. We currently have four vacancies, but besides that, it's also a unique opportunity to show yourself on this stage of course. I also already knew about the event from my time at the University of Groningen and knew that there is so much talent running around. This really is the place for scouting." 
Elfsquad
Frisian scale-up Elfsquad also made the virtual trip to the North Eastern United States. An opportunity they seized with both hands, according to Wessel de Haan: "We started six years ago and are now growing quite rapidly. In the Netherlands, but also in the US. Our market reach is significant there and we are looking at how we can properly expand it. International employees are needed for exactly that."
In the Netherlands, this international talent can help Elfsquad make the most complex products marketable. "Things like kitchens, agricultural machines or trucks, they come in all shapes and sizes", Wessel explains. "In the case of trucks, you can consider the size of the tailgate, down to the steering wheel. These aspects allow the customer to determine what his vehicle will look like. But how do you make sure they're able to easily configure this on our platform, and perhaps more importantly, how do you logistically manage your sales channels in a way that it can actually be produced?" 
"That's where we come in", Wessel continues. "You could compare it to buying an expensive car. Using a configurator, you're able to assemble it on the Internet. Not only does it visually look good, but all of the organization-wide know-how is also integrated into this tool. That way, you always make sure that you sell what you can make, while showing all possible options. In other words, online software that helps the complex manufacturing industry sell complex products." 
Discussions with driven and smart top talent
A unique opportunity for both companies, but did it actually pay off? "First off, we created brand awareness and expanded our network in the very place we want to be. We spoke to a lot of people interested in internships, but it was also just a lot of fun. To chat and have discussions with driven and smart top people, who also happen to be looking for career opportunities, it's very energizing," says Anne from EV Biotech. "We spoke to six or seven people interested in working for us," Wessel from Elfsquad adds. "Really nice people. It's still informal and orientational of course, but given the drive and the expertise in other sectors, I can't summarize it any other way than successful!"  
The importance and potential of international talent
A great success for the northern Netherlands, as confirmed by Bertwin Kampman, program manager of Founded in Friesland: "Well, not just a great success, but also super cool! And it's great to do this together as Founded in Friesland and Founded in Groningen. Experience has definitely made us realize that diversity in your startup, especially in the beginning, can really make a difference. Also, the opportunities to find international talent are really there, and this European Career Fair is a perfect example of that. As icing on the cake, we also got the chance to present ourselves at the pre-meet, one day before the event. All participants who were specifically interested in the Netherlands could get to know the companies and knowledge institutions. The three hundred students who joined the pre-meet confirm the huge untapped potential here. So if you' re a start-up or scale-up and you're looking for international talent, feel free to contact us!"
Publication Date: 18/03/2021                                                                                    Source: Founded in Friesland