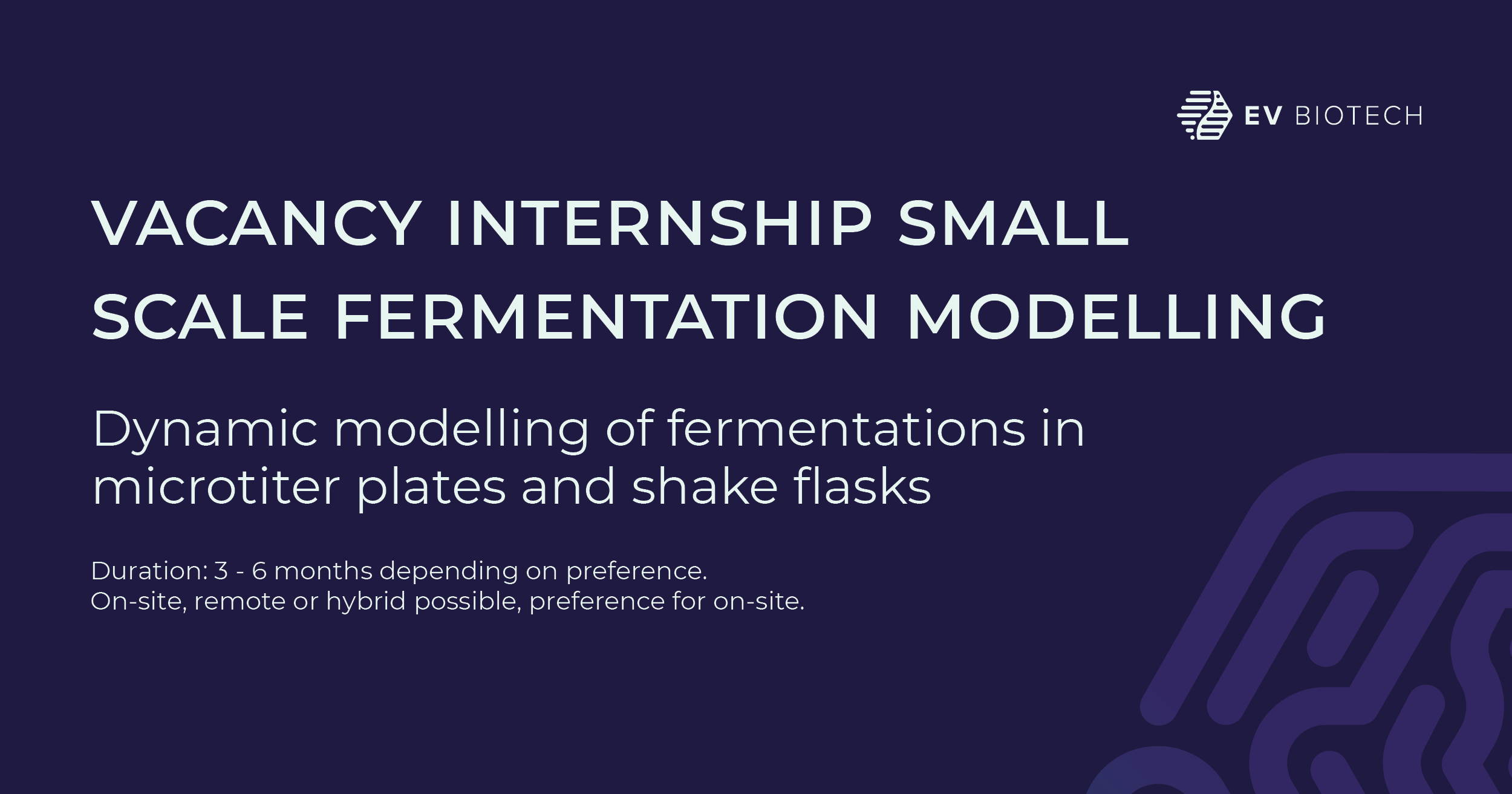 About EV Biotech:
EV Biotech is a biotechnology company that creates microbial production platforms for high-value chemicals and proteins using computational modelling and microorganisms. By combining classical fermentation methods with the latest developments in modelling approaches we have revolutionised the methods of microbial strain engineering. Our microbial cells factories (MCFs) provide effective, bio-based alternatives to conventional chemical-synthetic production processes. Our Groningen-based team has been operational since July 2018 and is dedicated to EV Biotech's mission to evolve the chemical feedstock market by shifting it from petrochemical-based to bio-based chemical production, thereby creating a greener economy for all.
Project description
In order to design experiments with reproducibility over different scales, EV Biotech wants to set up 
in-silico fermentation simulation capability for our microtiter plate and shake flask equipment. Therefore, mathematical kinetic ODE-based models for this fermentation scale and implementation into Python needs to be set up. The model needs to be validated with data obtained in-house.
What can we offer you:
Hands-on learning experience with setting up and validation of kinetic fermentation models. 

An interdisciplinary collaboration space with the fermentation and computational team. 


High degree of freedom and independence to  formulate own ideas and innovations within 

the project


Opportunities to get familiar with different aspects of how small companies are run, also from 

a business perspective. 

You will be part of a fun, diverse and inclusive team! As a full member of the team, you are 

more than welcome to join our social events. 
Student competencies:
Has an understanding of microbial fermentation processes and setting up mass balances.

Is familiar with Ordinary Differential Equations and implementation thereof in Python. 

Experience in ODE-based fermentation calculations is a plus.
Contact information: 
For more information or questions, you can send an e-mail to Anne Hensen (a.hensen@evbio.tech)