EV Biotech has an incredibly varied and interdisciplinary team with several technical backgrounds. From entrepreneurship to computational modelling. From metabolic engineering to protein engineering. From physics to finance.
Young and versatile interdisciplinary team that covers all fields from ideation to strain development and upscaling
Our dry lab team translates al potential wet-lab experiments to in silico experiments, and automates them
Our in-house developed computational pipeline simulates all wet-lab experiments to predict the most ideal genetic blueprint
Our wet lab team communicates directly with the dry lab team creating the best experimental designs for both wet and dry lab
Data generated with the ideal genetic blueprint organism in the wetlab is rerouted into the modeling process. Optimizing our predictions even more. Merging the real and digital world
With smart planning, direct and good communication the EV Biotech team can create results fast and accurately
Currently we have no open positions in our company
If you would like to work or collaborate with us on a specific project, feel free to send us an email. We welcome collaborations from both industry and academia.
Currently there are internship opportunities
Bioprocess design (either from chemical Engineering / Biotechnology background).

   Data mining, Pattern recognition, Algorithms (from a Mathematical Sciences/ Computer Sciences background).
Students MLO/HLO/University  (experience with cloning, metabolic engineering).
Marketing and Business masters. To develop a marketing strategy for a B2B Biotech startup.

Communications students. To build a communication strategy and create posts and content.
Send us an email with your CV and cover letter.
Using cutting-edge scientific developments in systems biology we have created in-house computational models of model microorganisms, allowing rational prediction of the required genetic modifications to produce high value chemicals and proteins.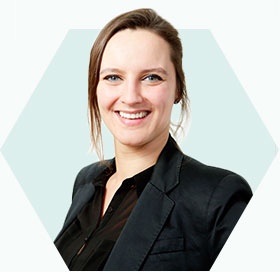 Title: Genetic Engineer, CEO
History: Bsc Biomedical sciences at the Vrije Universiteit, Amsterdam, 2006-2010 Msc Biomolecular sciences: Cell Biology at the Vrije Universiteit Amsterdam, 2011-2013 PhD Pharmaceutical Biology at the University of Groningen, 2014-present, finalizing months
Linda Dijkshoorn
"I have always been fascinated with biology, chemistry and engineering."
As a little girl I dreamt of becoming an inventor, entrepreneur and scientist. EV Biotech is the realisation of that dream combined with my passion for the creation of a sustainable society. I believe that with the current technologies we are able to achieve a sustainable society now, but that takes revolutionary steps in many very conservative markets. I strive that EV Biotech will become such a revolutionizing force.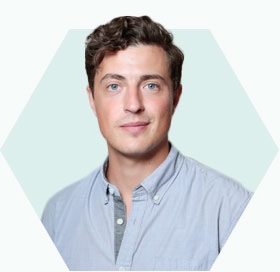 Title: Protein Engineer, CSO
History: Msc (Specialist) degree in Physics at Moscow State University (MSU), Moscow, Russian Federation, 2006-2012. PhD in Structural Biology at the University of Groningen, 2013-2018, Double degree programme in cooperation with the University of Sao Paulo, Brazil.
Sergey Lunev
I've always been fascinated by complexity of nature. My passion is being able to get a deeper insight into how everything in nature works. As co-founder of EV Biotech I have a perfect opportunity to do what I love the most and use my knowledge to create something new while helping the world to become greener.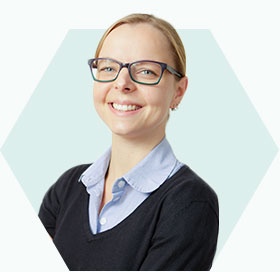 Title: Computational Biologist, CTO
History: BSc & MSc in Biotechnology at the Jagiellonian University, Krakow, 2007-2012. PhD in Systems Biology at the University of Groningen, 2013-2020.
Agnieszka Wegrzyn
"Only those with their feet on rock can build castles in the air." /T. Pratchett/
For as long as I can remember, I have been driven by an insatiable curiosity about how the world around me works, together with a desire to make that world a better place for everyone. EV Biotech allows me to put my knowledge and skills into practise and, together with the team, create a sustainable, cutting-edge, and eco-friendly technology to deliver important compounds to the market. Making the world better, one compound at a time.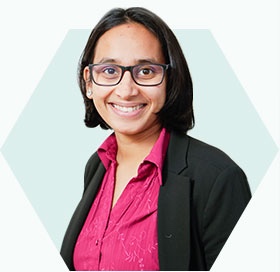 Title: Lead Data Scientist, Tech strategy
History: Integrated Masters in Mathematics and Bachelors in Electrical and Electronics Engineering at Birla Institute of Technology and Science in Pilani, India, 2007-2013; PhD in Neuroscience at the Donders Institute, Radboud University, 2015-Present.
Sonal Sengupta
"But in my opinion, all things in nature occur mathematically."
― Rene Decartes
I was introduced to science with a strange, almost unnatural dichotomy between mathematics and biology, always forcing an implicit choice. Fortunately, joining EV Biotech allows me to combine the clarity of mathematics with the complexity of biology. Within EV, I try to ensure that we have the best analytical tools ready for our wet-lab scientists.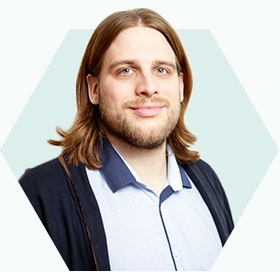 Title: Molecular Biologist, Software developer

History: MSc in Plant Physiology (2013) in Lomonosov Moscow State University, PhD in Plant Physiology and Biochemistry (2017) in the Institute of Plant Physiology (Russian Academy of Sciences). In 2018 worked in an IT startup company as a Python Developer.
Dmitry Bachin
"When something is important enough, you do it even if the odds are not in your favour." /Elon Musk/
My dream has always been to create something which would be used by others and help people to improve their lives. At the same time, I am passionate about biology and I enjoy programming. As a consequence, my life consisted of switches from computer science to biology and back to software development. Then I have realised: why not to do both? Thus, working in EV Biotech is a perfect chance to achieve my dream by doing what I like to do.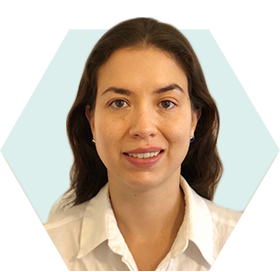 Margarita Bernal Cabas, PhD
Title: Strain Engineer

History: BSc in Microbiology at Universidad de Los Andes, Colombia, 2006-2011, MSc in Microbiology and Biotechnology at University of Alberta, Canada, 2011-2014, PhD in Molecular Bacteriology, University of Groningen, 2015-2020.
Margarita Bernal Cabas
"The people who are crazy enough to think they can change the world are the ones who do" /Steve Jobs/
I have always been fascinated by how genetic engineering  can be used to develop new microorganisms to improve our lives and well being. By working at EV biotech, I can contribute towards the design and development of new microbial cell factories to help the world move towards a bio based economy.
Title: Operations Director
History: Bsc Organic and Analysical Chemistry at Hanze University of Applied Sciences, Groningen, 2004-2007 Lab manager and scientist medicinal chemistry and Drug Design at the University of Groningen, 2007-2019 PhD Drug Design at the University of Groningen, 2014-2019
André Boltjes
"Aerodynamically, the bumble bee shouldn't be able to fly, but the bumble bee doesn't know it so it goes on flying anyway."
-Mary Kay Ash-
As a chemist I have always been intrigued by the ability of enzymes to perform complex synthetic procedures. Exploring the chemical space is my passion and looking for smarter and greener ways to achieve this, is extremely important as the current methodologies rely heavily on non-renewable resources. EV Biotech enables the potential of Bio-Better routes for the production of a great variety of significant molecules. I am proud to be part of the EV Biotech team, together we can make the world a better and more sustainable place.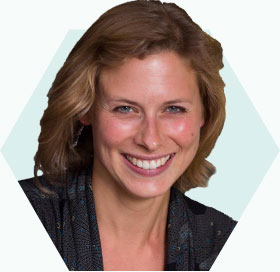 Title: Business Manager
History: BSc & MSc in Pharmacy (PharmD) at the University of Groningen, 2003-2010. PhD in Pharmaceutical Technology at the University of Groningen, 2010-2014. Postdoctoral research fellow at King's College London, 2014-2016. Postdoctoral researcher at University of Groningen, 2017. Scientific coordinator at University of Groningen, 2018-2020
Anne Lexmond
Nature has offered us some of the most potent drugs, strongest materials, and most delicious flavours and fragrances. Its beautifully complex structures are incredibly challenging to synthesise chemically, resulting in vast amounts of chemical waste. By letting nature do the job itself, EV Biotech creates a green alternative for the large-scale production of those compounds that we need and desire in our lives, without harming our environment. I strongly believe in EV Biotech's mission and have proudly joined team EV to contribute to a greener future for our society.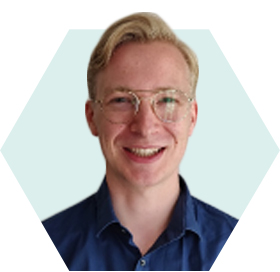 Title: Intern, Master student
Project: Works on the Vanillin proof-of-concept strain
History: BSc Chemistry at Hanze University of Applied Sciences Groningen (2013-2017); Pre-master Chemistry at University of Groningen (2017-2018); MSc Green Chemistry and Catalysis at University of Groningen (2018-present)
Ruben de Vries
During my master, I got to explore to the beautiful complexity of nature's catalysts: enzymes. Since then, I developed an interest in microbiology and genetic engineering. Working on the vanillin project gives me lots of insight on various biological processes, combined with my chemical knowledge this project suits me perfectly. In my future career, I aspire to contribute to a more sustainable world. I am grateful for the opportunity given by EV Biotech to have a great start in the world of genetic engineering.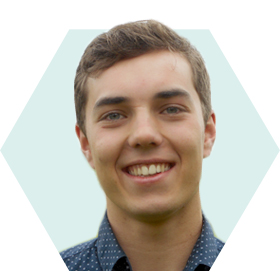 Title: Intern, Master student
Project: Works on the PHA proof-of-concept strain.
History:Bachelor Biology and Medical Laboratory Research at Van Hall Larenstein University of Applied Sciences Leeuwarden (2016-2020); Master Molecular Life Sciences at HAN University of Applied Sciences Nijmegen (2020-present)
History:
Bachelor Biology & Medical Laboratory Research at the Hanze
University of Applied Sciences Groningen, 2014-2018. Pre-master Molecular
Biology & Biotechnology at the University of Groningen, 2017. Master Molecular
Biology & Biotechnology at the University of Groningen, 2018-NOW.
Arno de Vries
During my bachelor I was fascinated by the large variety of topics in biology. I learned that molecular biology, genetic engineering and cell biology had my interest. With the Microbial Cell Factories, EV Biotech got my attention. In the interdisciplinary, ambitious and young team of EV Biotech, I get the opportunity to develop myself and increase my knowledge and research skills. Besides this, I think working at EV Biotech is working on a more sustainable, greener world.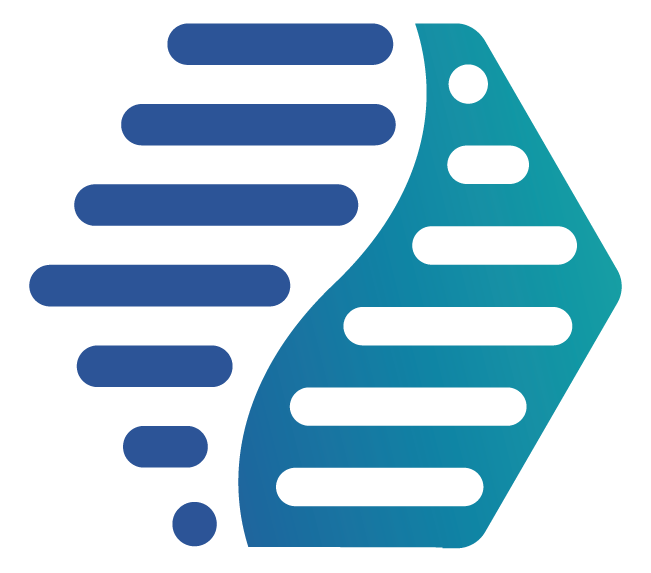 Title: Intern, Bachelor student
Project: Spider silk production using microbial cell factories
History: Bachelor Biology & Medical Laboratory Research at the Hanze University of Applied Sciences Groningen (2017-present)
Arnoud Spreen
Since I was young, I've always been fascinated by innovations. When I learned what the possibilities of genetically engineered bacteria are, it totally got me hooked. A bacterium can be made into a small factory capable of producing almost anything what is desired. After starting my bachelor study my interest only grew larger, especially in subjects like genetic engineering of micro-organisms and molecular biology. My internship at EV Biotech gives me the opportunity to work on a project based on my interests. The team consist of people with different expertises, which contributes to solving problems. The daily meetings give insight in what everybody is working on, what also helps in meeting your own goals. This internship at EV Biotech gives me the opportunity to develop my knowledge and laboratory skills.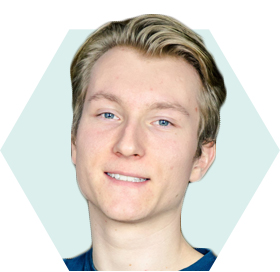 Title: Intern, Bachelor student
Project: Vanillin production in Microbial Cell Factories
History: Bachelor Biology & Medical Laboratory Research at the Hanze University of Applied Sciences Groningen (2017-present)
Olaf Muskee
Since I was young I was always fascinated by chemistry and especially biology. As I grew, my passion for these subjects grew with me. The topics I enjoy learning about most are microbiology, molecular biology and genetic engineering. My internship at EV Biotech gives me the opportunity to learn about all topics while also gaining much experience on the lab. The very welcoming team consist of people from every discipline what makes working at EV Biotech a very pleasant experience. I want to thank EV Biotech for the opportunity to join their team and improve my research skills while also contributing to research for a greener and more sustainable world.